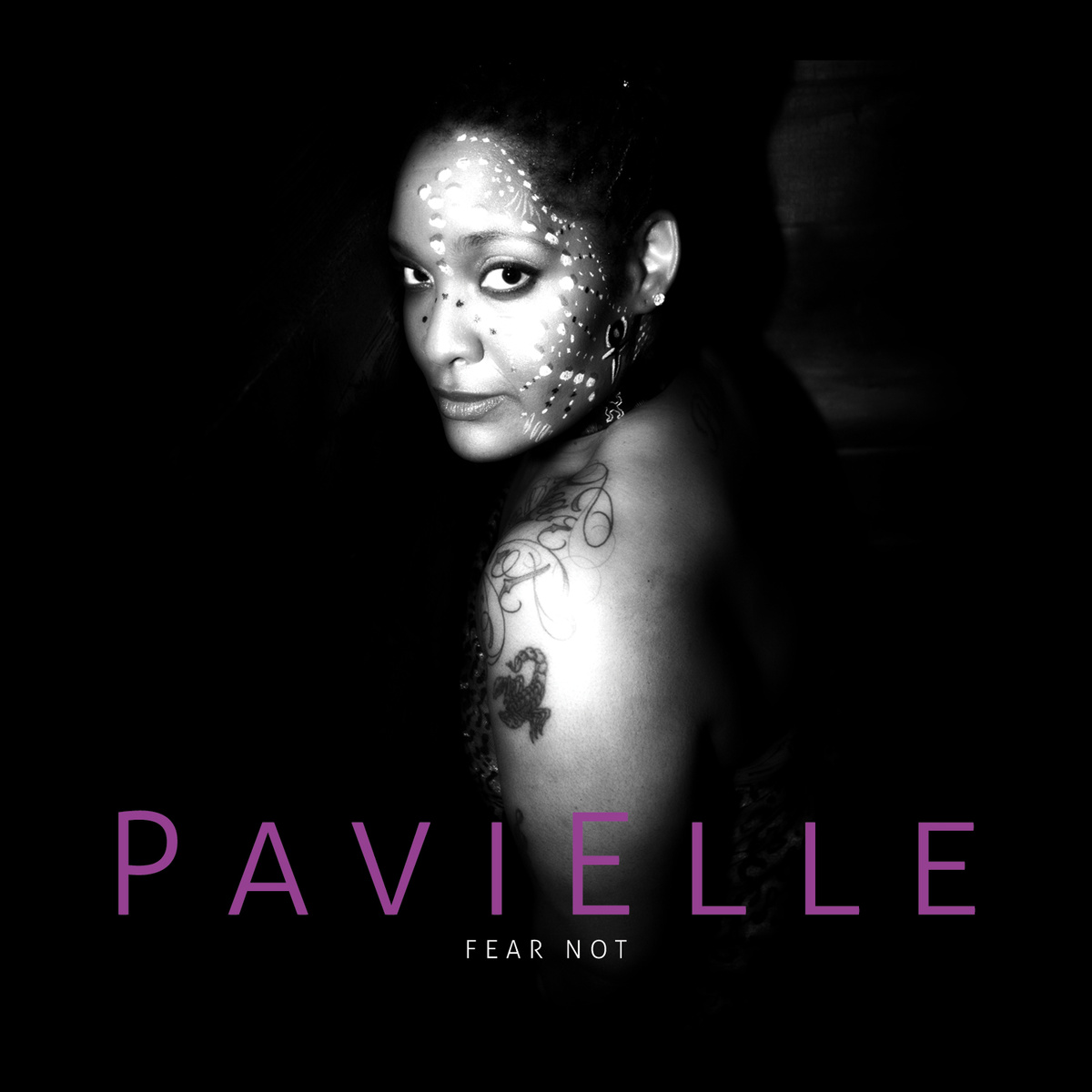 Fear Not, a new independently produced record, presents the captivating work of innovative, potent and dynamic neo-soul singer PaviElle French, and represents her much anticipated return to performing after a five year hiatus.In the past, PaviElle has taken the stage professionally as a vocalist, singer songwriter and spoken word artist, working with Khalil Queen, Everyday People, and as an early member of EduPoetic Enterbrainment, a group integrating spoken word, R&B, jazz, reggae and hip-hop. Her new endeavor is a musical collaboration with bassist, producer and composer Casey O'Brien and presents ten years of her songwriting, all of it deeply personal and autobiographical.

"It's like you're opening up and reading my diary," PaviElle says. "'These songs are my life, the ups and downs of it all."

In the new recording PaviElle says she's committed to "honoring the black aesthetic in soul music," something she fears her generation (she's 29) has abandoned.

"With the millennials, that black soul music appreciation seems to be gone," PaviElle says. "And that bothers me. I grew up wanting to be Chaka Khan. That's the sound and style I loved. I want to hold up that lineage that she carried, and that Aretha carried and also groups like Parliament."

Indeed, PaviElle's sound often has the faint flavor of Sly and the Family Stone, or seems to draw on the influences of little Jose James, and Rufus—with the soulful feel of Bill Withers occasionally evident in the groove.

"It definitely has the 70′s R&B feel," says O'Brien. "It's a close album, it draws you in and keeps you in that space. You're taken into the room. There's no excess baggage. You're hearing real musicians actually playing together."

PaviElle hails from St Paul's Rondo neighborhood, growing up in a family steeped in music. As a devoted music connoisseur, her father introduced her to a wide variety of sounds, her uncle, George Young, played saxophone for Purple Haze, her mother played saxophone as well and her actor/playwright brother Ahanti Young is an accomplished percussionist and performs with her on the new record.

For Fear Not, she strayed only a couple miles from her old neighborhood, recording at St Paul's Bellows studio with O'Brien on bass and guitar, Ted Godbout on keys, Nick Dodd on drums, Bryan Highhill on trumpet and Tony Beaderstadt on trombone.

While the sound the group captured was vintage, PaviElle brings her own personal style and passionate energy to her singing, making for a fresh sound that's uniquely her own. She says she always has a way she wants her songs to "swing," and it's this free-style emotion, in the scatting and vocalizing, that brings a millennial's heart-born, contemporary vision to a classic soul music sound.

Press
"The 29-year-old soul singer is stepping into the spotlight with a batch of original songs that prove that she's more than ready for her close-up…The resulting songs stand in sharp contrast to much of today's neo-soul music; rather than try to dazzle the listener with flashy hooks or showy vocal runs, PaviElle draws her audience in close to create an intimate, warm, and emotional experience, her voice unspooling one slow-burning and expressive line after another."

Andrea Swensson – The Current • Full Article

"The St. Paul neo-soul singer started her monthly residency in good style — from giving Fleetwood Mac's "Dreams" a soulful bent to Funkadelic-style jams. She uses classic soul to inform her singing, but is no retro stylist. Rather, she makes good use of contemporary rhythms to keep things moving."

Larry Englund – Star Tribune

"Be Right There," with it's minimal production, does exactly what it's supposed to do – allow the message and the messenger to shine. PaviElle's shine has been years in the making, but the polish is coming through with dazzling brilliance."

Harry Colbert, Jr – Insight News • Full Article

"What happened at the end of the night blew me away. I was on the verge of getting on the stage and move my feet and body but I snapped, clapped, and hollered from my seat when PaviElle French graced the stage with her soulful sounds and full band that understood the energy in her songs and soul. She closed the night filling us with affirmations and stories. We were left in awe."

Nimo Farah – TC Daily Planet

"If anyone ever ask what happened to soul, the answer is PaviElle. Her superlative style crosses genres while remaining solidly grounded in pure, beautiful soul, creating a kind of hypnotic tonal atmosphere that is all kinds of all right."

TaylorCisco – Newscastic
credits
released January 17, 2015

01. Runnin' (P.French/C.O'Brien)

02. I Miss You (P.French/C.O'Brien)

03. Logic and Reason (C.O'Brien/T.Godbout/N.Dodd)

04. Disbelief (P.French/C.O'Brien)

05. Strange Plane (C.O'Brien/T.Godbout/N.Dodd)

06. Sometimes You Wanna Be (P.French/C.O'Brien)

07. Dreams (S.Nicks)

08. Aftertheafter (C.O'Brien/T.Godbout/N.Dodd)

09. Be Right There (P.French/C.O'Brien)

10. The Breakup Song (P.French)

PaviElle – Vocals

Ted Godbout – Keys

Nick Dodd – Drums

Ahanti Young – Percussion

Bryan Highhill – Trumpet

Tony Beaderstadt – Trombone

Casey O'Brien – Bass and Guitar

Produced By Casey O'Brien

Recorded and Mixed by Adam Krinsky & Graham O'Brien @ Bellows. St. Paul, MN.

Mastered by Huntley Miller @ HM Mastering.